MaxBounty Review: Is This Affiliate Network Worth Joining?
MaxBounty is an affiliate network that has been in operation since 2004. In this MaxBounty review, we'll take a closer look at the features, benefits, and drawbacks of this platform to help you determine whether it's the right choice for your business.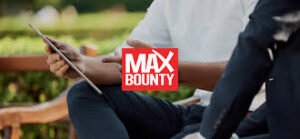 What is MaxBounty?
MaxBounty is a performance-based affiliate marketing network that connects advertisers with affiliates who promote their products or services in exchange for a commission. The platform offers a wide range of campaigns across various verticals, including finance, health, and gaming.
Pros of MaxBounty
Wide Range of Offers: MaxBounty offers a wide range of offers across various verticals, which means that affiliates have a lot of options when it comes to choosing campaigns to promote. This also means that affiliates can find campaigns that are a good fit for their audience.
High Commission Rates: MaxBounty offers high commission rates, with some campaigns offering commissions as high as $150 per lead. This means that affiliates can earn significant commissions for promoting MaxBounty campaigns.
Easy to Use: MaxBounty is easy to use, with a simple interface that makes it easy for affiliates to find campaigns, generate affiliate links, and track their performance.
Timely Payments: MaxBounty offers timely payments to affiliates, with payments made on a weekly or bi-weekly basis. This can be a huge benefit for affiliates who rely on their earnings to support their business.
Cons of MaxBounty
Strict Approval Process: MaxBounty has a strict approval process, which means that not all affiliates are accepted into the network. This can be frustrating for affiliates who are new to the industry or have limited experience.
Limited Payment Options: MaxBounty only offers a limited range of payment options, including PayPal and check. This can be frustrating for affiliates who prefer to receive payments through other methods.
Low-Quality Offers: Some affiliates have reported that some of the offers on MaxBounty are of low quality. This can impact the earnings of affiliates who promote these offers.
Conclusion– Overall, MaxBounty is a popular and profitable affiliate network that offers a wide range of campaigns, high commission rates, an easy-to-use interface, and timely payments. While the platform has some drawbacks, such as a strict approval process and limited payment options, it's still a great choice for affiliates who are looking to monetize their traffic and maximize their earnings.
If you're interested in joining MaxBounty, you can visit their website and apply to become an affiliate. With the right strategies and techniques, you can start earning money from the platform and build a successful affiliate marketing business.
You can read more blogs – Click Here